The Route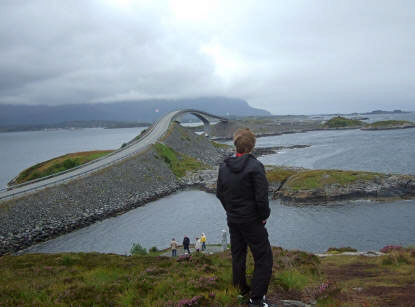 Driving from Molde to Kristiansund is about 100km on route 64 and would take two hours if you didn't stop. Of course the aim typically is to stop and enjoy the amazing views, so allow a half day for this trip. There are a few alternatives but here is one suggestion.

Starting in Molde in the Rutebilholdeplassen where the coaches are parked drive east towards the sea past Petrine's Pizza and pub.

Follow the road until you have to bear right inland beside the stream bed. Then take the first turning on the right onto Strandgata. Keep right as you head out of the town and you will be driving on Fannestrandvegen along the sea.

The road becomes E39 and on the outskirts of the town takes you to a roundabout or traffic circle, use the first exit. e.g. the one heading east.

Keep going past the marina and onto the main road.

At the next round about go straight over. Do not take the right hand turn that goes to the tunnel!

After that is another round about and here you turn to the left, and leave the main E39 as you head north on the Rv64.

This is a long and beautiful mountain drive to the mountain tunnel. There is a toll at the tunnel which is 3.5 km long.

Keep on the Rv64 road.

There is only one turning now on the road, a T-Junction but it is very clearly signed posted to the right is Rv64 towards Kristiansund. Take this turning correctly then stay on the road, and it will take you past all the famous bridges of the Atlantic Road Norway.

When you are past the last of the amazing bridges and tiny islands you will be back on the big islands and can follow signs to Kristiansund as there is now only one way.

Happy driving!